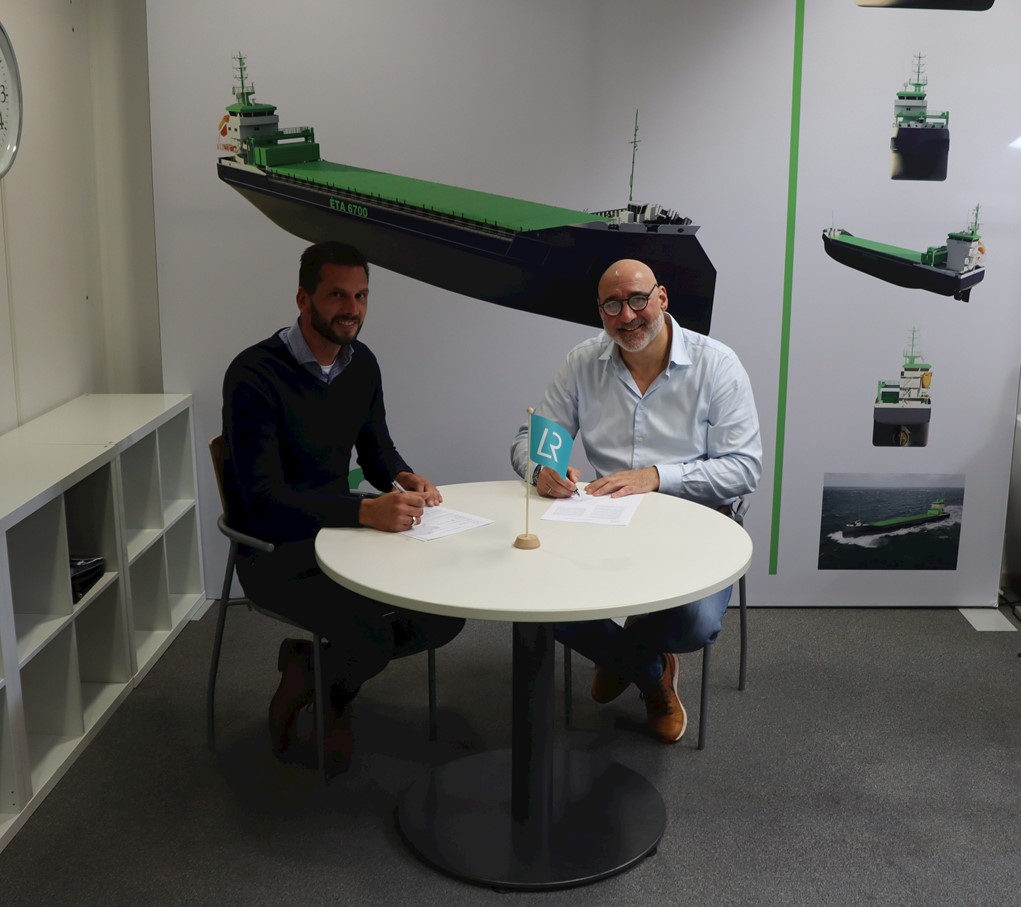 Leeuwarden, October 6th, 2022
On Monday, October 3rd, 2022, ÈTA Shipping rewarded Lloyd's Register Rotterdam with the plan approval contract of the ÈTA 6700. Under this contract Lloyd's will assess the structural and regulatory rules which will apply to the ÈTA 6700. The plan approval will be performed for 6 vessels plus options.
Long-term partnership
Lloyd's Register and ÈTA Shipping have been long-term partners. Since the founding of ÈTA Shipping, Lloyd's Register has been the sparring partner for ÈTA Shipping. Lloyd's Register assists ÈTA Shipping in evaluating innovations beyond the regulations and rules and how to fit these innovations within the current regulations. Due to the signing of the contract, Lloyd's Register will conduct the plan approval for the ÈTA 6700. ÈTA Shipping expects to receive the approval no later than January, 2023.
The long-lasting relationship is based on previous cooperation with the Rotterdam and Haren office of Lloyds Register. So for ÈTA Shipping the decision to partner up with Lloyd's Register is based on confidence and the mutual ambition to accelerate the energy transitions in the shortsea shipping sector.
Sam Gombra, Founding Director at ÈTA Shipping, explains: "The cooperation is based on a pleasant and professional relationship, in which all innovative subjects could always be directed to specialist within Lloyd's Register that could assess the progressive and innovative approach of ÈTA Shipping. This helped ÈTA Shipping to explore the possibilities and boundaries of the desired innovations." 
Lloyd's Register explains: "We are delighted to be selected as preferred Classification Society. This project from ÈTA Shipping suits seamless into our vision of future shipping and the focus for sustainable shipping and decarbonization in the maritime industry. It is great to see that the long standing relationship with ÈTA Shipping founders will now be extended to the future with the signing of this contract. The road that lead to the signing was a challenging one due to continuous development in insight, market situations and development of rules and regulations. We are happy that we as Lloyd's Register team could contribute in this project."
Plan approval process
Currently Western Baltic Engineering is further developing the construction drawings. This is done under supervision of Walter van Gruijthuijsen, co-owner and Project Director at ÈTA Shipping. During the finalization of the construction drawings, Lloyd's Register will assess every stage. The plans will be assessed on the following subjects: IMO Regulations, Flag state rules and Class rules.
About ÈTA Shipping
ÈTA Shipping's mission is to reduce harmful emissions significantly, increase safety and efficiency at sea by using data and modern technologies with the possibility of integrating shipping into transport chain algorithms, which will make the sea transport chain much more efficient through reducing energy consumption and operational costs. Smaller footprint, better results and returns: Sustainable through efficiency!
ÈTA Shipping has developed and refined an efficient and modular ship design. Read more about ÈTA Shipping here https://etashipping.com
About Lloyd's Register
Lloyd's Register is a global professional services company specializing in engineering and technology for the maritime industry. Our Marine and Offshore business is a leading provider of classification and compliance services to the marine and offshore industries, helping our clients design, construct and operate their assets to the highest levels of safety and environmental compliance.
In the race to zero emissions, our solutions, technical expertise and industry-firsts will support a safe, sustainable maritime energy transition.
Read more about Lloyd's Register here https://www.lr.org/