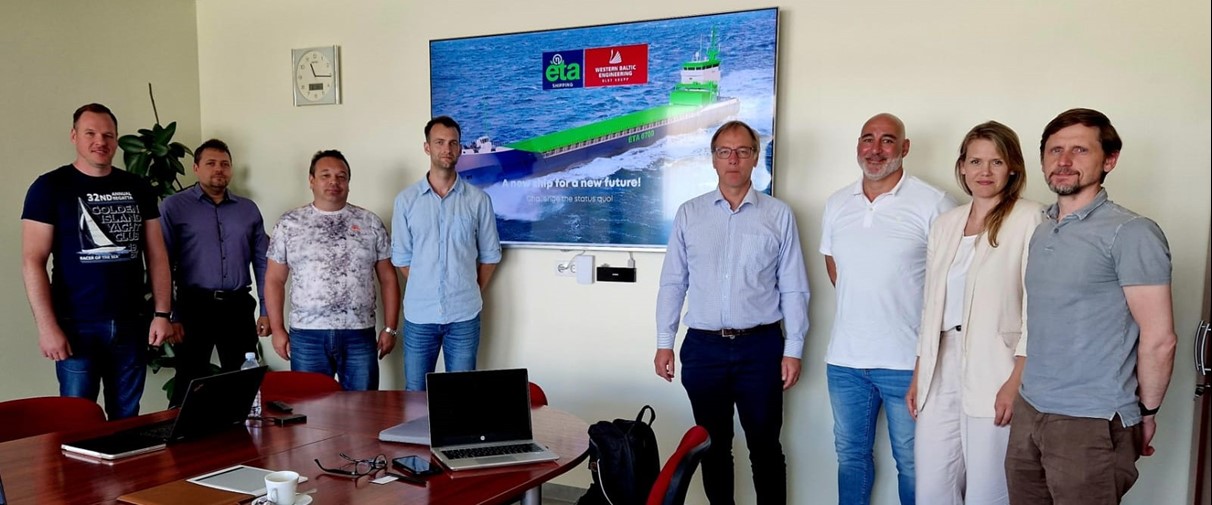 Left to right: Vilius Gaudutis, Technical Director WBE, Romanas Ryzkovas, Lead Engineer WBE, Michail Kaprizkin, Head of Mechanical and Outfitting department, WBE, Romanas Persijanovas Project Manager WBE, Walter van Gruijthuijsen CTO ÈTA Shipping, Sam Gombra CEO ÈTA Shipping, Eglè Mikalauskiené head of sales WBE, Mindaugas Stankevicius, lead engineer WBE
Leeuwarden – August 8, 2022
ÈTA Shipping's mission, accelerating the energy transition in the short sea shipping sector, is becoming reality. This week ÈTA Shipping and Western Baltic Engineering, a leading marine engineering corporation in Lithuania, have formally started their joint engineering of ÈTA Shipping's launching project ÈTA 6700. A promising step in the right direction for both companies in achieving their common goal: making shipping more sustainable.
Mutual beneficiary cooperation
ÈTA Shipping has been in search of an independent marine engineering company that had the capability, vision and skills to engineer the ÈTA 6700 vessel.
Sam Gombra, CEO at ÈTA Shipping, explains why it was a quick decision to partner up: "Western Baltic Engineering has broad experience and facilities. We found common ground in the same vision: making sustainable shipping a reality. We're really content to be able to realize our vision with them, as this cooperation will contribute to the acceleration of the energy transition in the short sea shipping sector".
Marius Arkušauskas, Director of Western Baltic Engineering, is also really happy with the cooperation: "We strongly believe in ÈTA Shipping's chosen concept of future shipping and we are very happy being part of it. The ÈTA Shipping project is in line with the direction of Western Baltic Engineering's strategy to participate in innovative, green projects".
New way of shipping
The ÈTA 6700 is a highly efficient modular vessel which is designed for the European coastal trade. The vessels are capable of changing power generation and power storage in an efficient and effective way without downtime. This enables the vessel to adapt easily to future and emission free fuels. The modular design also allows partial change or add-on power generation which make the ships suitable for testing new technologies in a maritime environment.
Walter van Gruijthuijsen, CTO at ÈTA Shipping, says: "We were looking for a partner that had the facilities and capacity to engineer the ÈTA 6700  in such a detailed way that it also can be used for the operational management of the ships. An exact digital copy, so to say. Western Baltic Engineering will create our 3D model to the smallest detail. This 3D model will form the basis of a unique, innovative technical management tool. Traditionally there are a lot of management programs aboard of a ship, but we're going to visualise them all within this intuitive 3D interface, so you can graphically see the actual data of the equipment. This offers a lot of opportunities in terms of personnel and their level of training."
Launching customer  
The first six vessels will be chartered by ForestWave Navigation/Schulte & Bruns. ForestWave is active in the multi-purpose shortsea segment. Their vessels are operated mainly in European waters and the Atlantic Basin. To meet the ambitious goals of long-term customers to have zero emission shipping available as soon as 2030, ForestWave and ÈTA Shipping have agreed on long term charter for six ÈTA 6700 vessels. This unusual commitment of ForestWave enables the transition of the short sea sector and contributes significantly to the realization of the project. This unusual commitment of ForestWave enables the transition of the short sea sector and contributes significantly to the realization of the project.
------------------------------------------------------------------------------------------------------------------------
About ÈTA Shipping
ÈTA Shipping's mission is to reduce harmful emissions significantly, increase safety and efficiency at sea by using data and modern technologies with the possibility of integrating shipping into transport chain algorithms, which will make the sea transport chain much more efficient through reducing energy consumption and operational costs. Smaller footprint, better results and returns: Sustainable through efficiency!
ÈTA Shipping has developed and refined an efficient and modular ship design.
Read more about ÈTA Shipping here https://etashipping.com
About Western Baltic Engineering
Western Baltic Engineering is part of The Western Shipyard Group. They have been one of the largest marine engineering corporations in Lithuania for five decades. Currently, the group incorporates 21 companies that specialize in different fields of activity, and provides all services related to the life cycle of a ship. The main activities of the company group are implementation of shipbuilding, ship repair and conversion projects, complex ship design and engineering solutions, large and complex metal construction and equipment production, and stevedoring services.
The Western Shipyard Group is the largest employer in Western Lithuania, creating over 3,000 work positions.
Read more about The Western Shipyard Group here https://wsy.lt/en
Our focus is to offer our customers excellent and spot on service and to operate the vessels efficiently by operating and manning these with well trained and flexible personnel in order to not only meet the expectations of the charterers and the owners, but also go the extra mile.
Since 2019 we have been awarded with the ISO 9001:2015 certification.
------------------------------------------------------------------------------------------------------------------------
Note for editors:
Contact Sam Gombra for more information of ÈTA Shipping via sam@etashipping.com or Marius Arkusauskas via Marius.Arkusauskas@wsy.lt